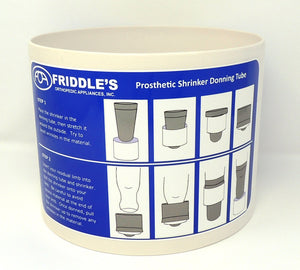 PROSTHETIC DONNING TUBES
Friddle's is pleased to announce we now offer PROSTHETIC DONNING TUBES! This product comes in 3 sizes (10", 8" & 6" diameter). Friddle's also has the ability to customize the product information stickers with your company information and logo. 
Click Here to Order
---
About Us
Dear Customer,
    I would like to take the time to thank you for the opportunity to supply you and your company's orthotic and prosthetic needs. The past few years have seen many changes in our profession. We at Friddle's Orthopedic Appliances are also changing in order to meet your needs. We have expanded our warehouse space, added new product lines and dropped some lines in order to provide you with high quality supplies at very competitive prices. If you are unable to find a particular item in our catalog, please call and we will be more than happy to try and get that item for you. Also, if by some slim chance our prices are too high on an item, call and we will try our best to beat any competitor's price on that comparable item.
    Friddle's manufactures and distributes orthotic and prosthetic supplies at competitive prices.  Since we have no patient care facility, we cannot be viewed as competition to the retail market.  We do not sell directly to patients.  Our purpose is to supply practitioners with the materials they need at the lowest possible price, and with outstanding customer service.
    We hope this website will become an individual tool in obtaining the supplies and services that you need. Again thank you for your business in the past and we look forward to serving you and your company in the years ahead.
Sincerely, 
Rachel Friddle-Johnson, CPO 
President